Below are some reviews and testimonials from our clients:
Please know that we really, really appreciated all that the two of you did. You were always there, (even late at night and at the last minute!) and were so compassionate and loving to Shadow. We loved the little notes you left! Through your words, and notes you left, we could see how happy that Shadow was on her walks. I know it's not always easy to walk the old girl; her slow saunter and millions of stops to sniff (especially in the cold winter!) are not always easy. But both you and Ruth took the time to let her have her strolls and it was very obvious what a difference it made. For 16 years old, she's still a happy, healthy dog. And you and Ruth contributed to that. You are really wonderful people. Shadow, Alie, and I were lucky to have found you!
Regards,
Bernadette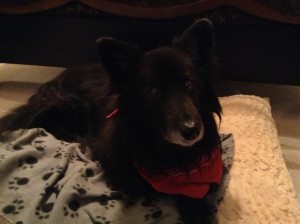 In February 2012 we adopted a six month old rescue German Shepherd.
Mack is a beautiful dog with some issues but with my husband retired, we believed he could spend lots of time with Mack and help him overcome or cope with the issues. Then, my husband tore his Achilles Tendon in late Fall 2012. I work full time and I was at a total loss at how to keep Mack exercised until Puppy Dog Trails came into all our lives.
Mack has been a pack member since early Fall 2012 and just loves his adventure hikes and interaction with the dogs and, of course, the dog handlers. Mostly, when on these adventure walks, Mack can be found in the company of his handler, Ron and the "pack".  As far as we are concerned, Ron is quire simply a Godsend.
When my husband recuperated from his Torn Achilles Tendon in the Spring of 2013 we continued on with the adventure walks with Ron and Puppy Dog Trails as we found it to be extremely beneficial to Mack on so many levels.  Puppy Dog Trails is a stellar organization with exceptional and knowledgeable dog handlers. Thank you Puppy Dog Trails!!!!
Paula Burke
Tails Wag for Puppy Dog Trails – Normally I work during the week. Ron shows up every day to take Zoe, my high energy Wheaton/Poodle cross, for her daily adventure to Bronte park. I always know that he has been as he leaves me a wonderful note everyday and Zoe is exhausted when I get home. Last week I happened to work from home one day and about 5 minutes before Ron showed up Zoe moved to the front window with her tail wagging wildly to wait for Ron. It was like she knew he was on his way. A few minutes later he pulled up and she was so excited…spinning and tail going crazy. He was as happy to see her as she was to see him. I imagine that this is the scene in our home most days, even when I am not there to witness it. Zoe waiting for the best part of her day and Ron greeting her warmly when he arrives. Thank you to Puppy Dog Trails for being the best part of Zoe's day and for allowing me to go to work every day knowing she will get a great adventure.
Lee-Anne